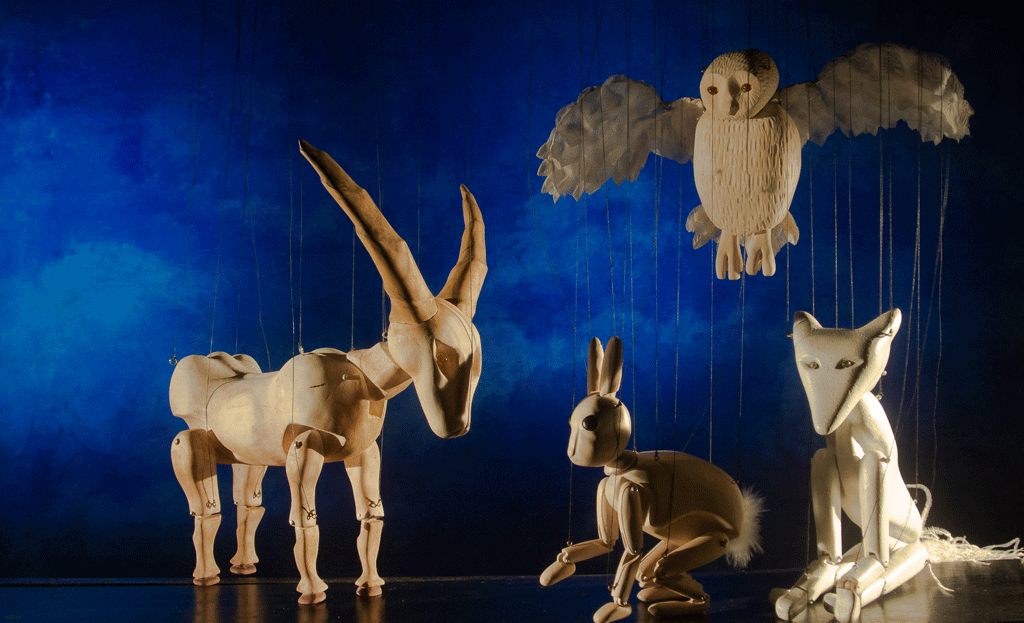 Thanks to the Cultural Recovery Grant the Puppet Theatre Barge received in October 2020 from Arts Council England, they are able to put on live puppet shows during the winter holiday season! A film of the show will also be available for purchase online for those unable to attend in person.
The Crow's Tale by String Theatre
The Crow's Tale tells the story of a Crow with colourful rainbow feathers that flies to the sun to
save the world from an endless winter.
Inspired by a Lenni Lenape Native American legend, and based on the picture book (of the same name) by Naomi Howarth, Crow embarks on a journey that will transform his appearance forever.
Kindness, generosity and courage shine through in this seasonal snowy tale, retold using string marionettes.
With a soundtrack of achingly beautiful original music, and accompanied by Howarth's original text, The Crow's Tale is a piece of moving and heartwarming puppetry guaranteed to delight adults and children alike.
"It was hard to know whether to be amazed by the technical virtuosity of the two puppeteers,
impressed by the beautifully crafted puppets, or wowed by the stunning stagecraft. In the end, I was simply swept away by an enchanting story, lovingly told.." – The Corn Hall Theatre
The Puppet Theatre Barge is London's most unusual theatre venue – a unique fifty-seat
marionette theatre on a converted barge, a hidden gem in the heart of the city.
The barge is moored in Little Venice from October until July and, on the Thames, in Richmond during the summer months.
The Puppet Barge has been presenting drama for over 35 years and is one of the last remaining theatres in the UK dedicated to the art of the marionette.
Production Credits
Puppets and set by String Theatre
Music by Josh Middleton
Directed by Kate Middleton, Josh Middleton & Rob Humphreys
Performed by Stan Middleton, Soledad Zarate, Bori Mezö
Running time: 45 mins (no interval)
Location
Puppet Theatre Barge, opp. 35 Blomfield Road, London, W9 2PF
Dates
Live Shows:
5 December 2020 to 30 January 2021
December 2020
December 5th/6th/12th/19th-23rd/28th-31st at 11am and 2pm
Plus
December 13th at 11am
December 27th at 3pm
January 2020
Saturdays and Sundays at 2pm
No shows 16th/17th
Online shows
Film available for purchase from 15th December 2020
Inclusivity
Relaxed Performance: 28th December at 11am
Captioned Performance: 23rd January at 2pm
For press enquiries or press tickets please contact press@puppetbarge.com. Press are welcome at any performance with prior notice.
Enjoy more Towpath Talk reading in the monthly paper.
Click here
to subscribe.
See more
boats for sale
and
sell your boat for free
with
Towpath Trader
.
Comments
comments